Tune-up your PSS Webstore Settings (Contact Info, Shipping, Tax, Checkout)
PSS Home Page > Settings > Webstore

PSS Webstore Settings Overview Video - 1 Minute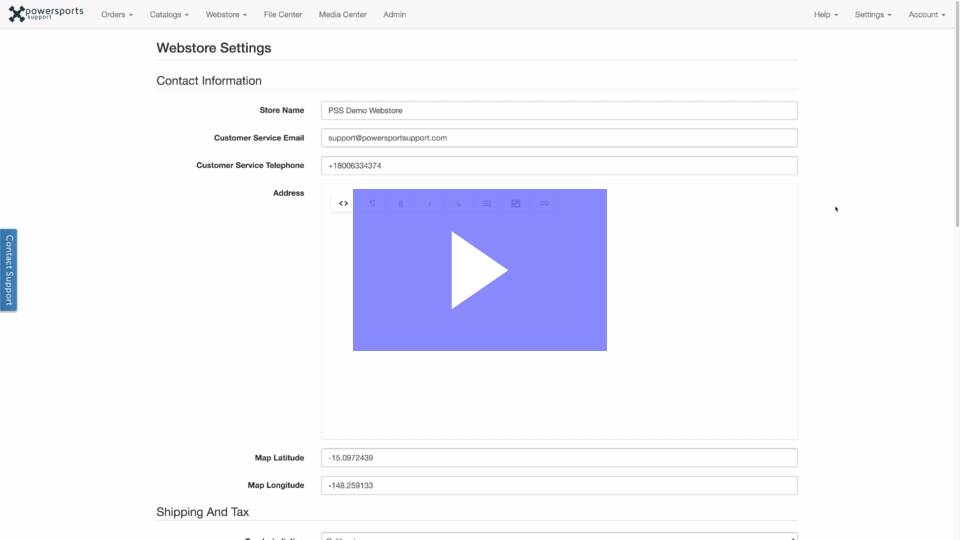 Contact Information
Store Name
Name of your business
Customer Service Email
The email address that you want displayed for customer general inquiries to come into. This will also be the email address that gets notified of PSS Webstore Parts Orders. Note: You will also be notified of orders via your Payment Gateway/Checkout provider.
Lead Submission Email
The email address that will be hit when someone inquires about a New/Used Vehicle. Leave blank if you do not sell any vehicles.
Customer Service Telephone
The phone number to your business
Address
You can simply type in your address or to give the "Contact Us" page a little better look you can put in the latitude and longitude of your store. You can find the coordinates to your store using Google Maps.
Just copy and paste the latitude and longitude values from the URL into the applicable fields. How to read latitude & longitude
Shipping and Tax
Tax Jurisdiction
State your store is in
Tax
Sales tax rate of State
Shipping Rules
This will allow you to set shipping based off of Price Bands. Click "Manage". Typically dealers will charge shipping for orders under a certain dollar amount. In the future, PSS will be adding more options in regards to shipping cost management.
Social Media
The links to your public facing Social Media Pages
Search Engine Optimization
Check the "Allow Indexing" box if you want the content of your site to be indexable.
Analytics and Tracking
Analytics Code
Coming soon
Marketing Code
Coming soon
Conversion Code
Coming soon
Enable TruRating
TruRating gives you the power to help customers, businesses, and charities by answering one question with the push of a button at the point of sale. https://www.trurating.com/en-us/
Payment Gateway
The Gateway Provider dropdown will show all providers that PSS integrates with. Here are links on how to set-up each one:
Stripe: https://powersports-support.helpscoutdocs.com/article/84-stripe
PayPal: https://powersports-support.helpscoutdocs.com/article/85-paypal